Chewing on Ice
11th Jan 2017
Hello - I have questions about the Dino Bite necklace. Would it work well for a 6 year old autistic child who likes to chew/eat ice? He eats ice constantly and I'm wondering if this would be a better option for his teeth. Thank you!
.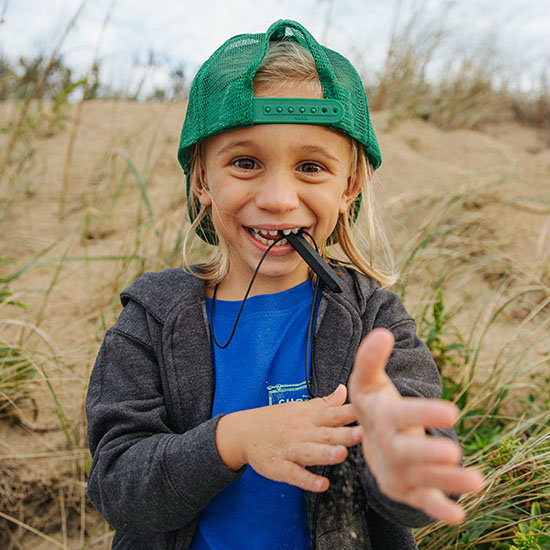 .
Hello! It sounds like a chew tool would be a great alternative to try. All of our chew tools come in 3 color-coded toughness levels:
• Soft/Standard is the softest and most chewy option
• XT/Medium Firm is firmer, but still fairly chewy
• XXT/Super Firm is the most firm / very rigid (but still chewable)
Typically we recommend going with the softest level by default. Unless the person chews through non-food items currently, in which case jumping up to the XT is usually a good idea for a longer lasting option. Some kids eventually need the XXT level, but we usually don't recommend that right off the bat (XXT is pretty tough so some people don't find it comfortable to chew on).
For this child, though, I think jumping up to the XT level would be best. Ice (before it crushes) is pretty hard, so even though we usually recommend starting with the standard level, I think he'll like the extra resistance to the jaw that XT will provide.
As far as which shape to go with, I would actually recommend any of these shapes instead of the Dino:
ARK's Krypto-Bite® Gem Necklace
ARK's Brick Stick® Necklace (Smooth)
The reason being that the Dino is a wide shape, so you can't reach your back molars with it; it's better for chewing with your front teeth and/or pre-molars. Whereas the options linked above are all more slender shapes that can reach his back molars better, and that's most likely where he's chewing on ice the most / where needs the most oral input.
I hope this helps narrow things down, if you have any other questions, please let us know :)
.
You may also be interested in:
Chewing GuideNeed help choosing which chew tools will be the best fit? Click through for an in-depth explanation of our different hardness levels, recommendations, and more...
Why Does My Older Child Chew on Everything? My 9 year old chews on everything… erasers, foam rubber, shirt collars. Is this something more than typical childhood behavior?...
My Child Chews on Everything – What Can I Do? For children with sensory needs and/or Autism, chewing throughout the day can help calm, focus, and self-regulate. There are several things you can do to help meet that need safely...
.