How to Stop Chewing on Toys, Shirts, Pencils, Remotes, Etc.
7th Jul 2020
Do chewed up barbie hands or toy car tires sound familiar? Stretched out shirt collars? Is it hard to find a pencil or straw or bottle cap without bite marks on it?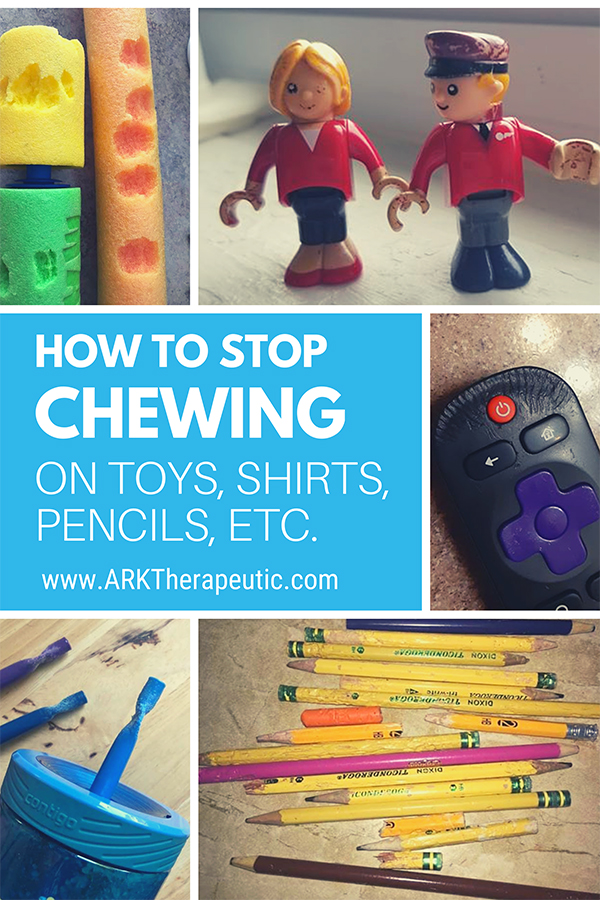 .
You're not alone! Chewing on non-food items is actually quite common at all ages from kids through adults. For kids, the most common things we hear are (not in any order): fingernails, fingers, hands, hair, shirts, sleeves, blankets, remotes, game controllers, toys, books, straws, water bottle caps, stuffed animals, headphones, phone cords, iPhone cases, school ID badges, pens, pencils, etc.
What do all of these items have in common? They're all objects that kids have access to. They're not things that are necessarily comfortable or good or safe to chew on, they just happen to be "right there" within reach.
Why do some people need to chew? It's typically related to some kind of stress and/or anxiety. Similar to how babies mouth/chew on things to self-soothe, chewing is a calming mechanism that stays with us as we get older, more so for some people than for others. For a lot more information about the reasons behind chewing, click here.
.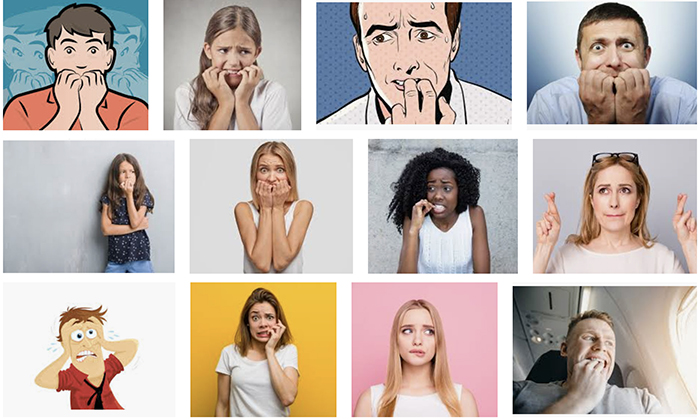 .
Look at the image above for example for a quick visual. That's a screenshot of the first images that show up when you do a Google image search of the word "nervous" - every person is either biting their fingernails or biting their lip! When we're nervous or anxious or upset, many of us instinctually put our hands to our mouths.
It's really important to note: kids don't want to chew on things they're not supposed to. They don't want to be destructive or harm themselves or anything around them. It's just that they have a need to chew, which means they need something to chew on.
.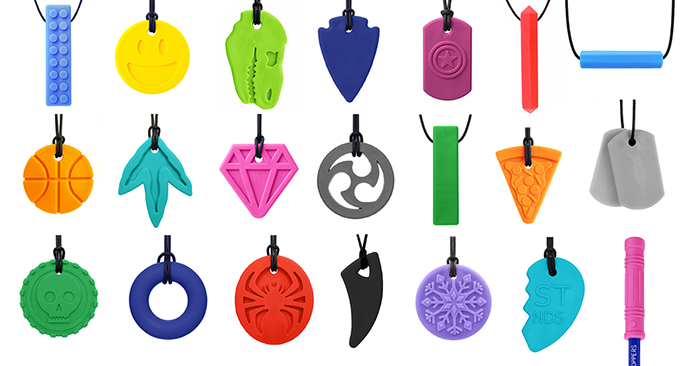 .
The easiest way to help kids stop chewing on plastic, toys, and other miscellaneous items is to give them a safe alternative to use. There are lots of different options available today from the classic Grabber to chewable necklaces and bracelets to chewable pencil toppers.
There are super discreet options like the Krypto-Bite, Saber Tooth, and Write-n-Bite. Really robust options like the Dino-Bite, Super Star, and Y-Chew for tough chewers. And everything in between.
Once you give someone an appropriate item to chew on - once they have something meant and designed for them to chew on - it really is a whole new world. 99% of the time you'll find that they chew on toys, remote controllers, pencils, etc. a lot less, if at all.
.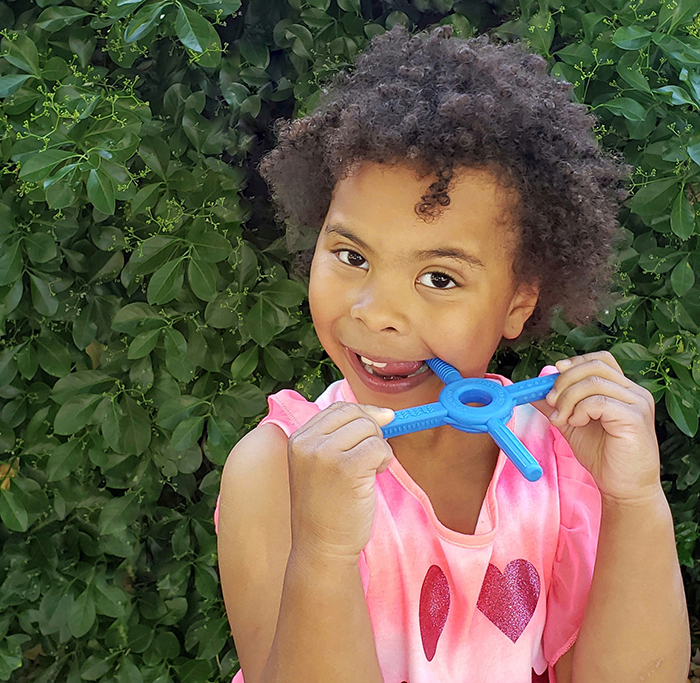 .
"My 5 year old is autistic and has chewing compulsion. After several destroyed shirts, cords, cables, toys, and several sore fingers, I found this amazing thing! When he opened it for Christmas, and found out it was made to chew on, he was over the moon. He wears it proudly, and it has helped him get out that need to chew, which calms his anxiety. He is even more relaxed because he can chew without upsetting anyone in the process!" - Rhiannon
---
"My 9 year old son love this. He is a diagnoised ocd hoarder, so he picks up anything and everythig. He was at a point where he was sticking old rusty nails, staples, paper clips, any and all toys, his clothes, pretty much everything in his mouth. Now he only chews on his necklace!!! It has put this parents mind at ease knowing its safe and won't hurt him." - Heather
---
"I have 2 autistic boys. One chews the collar of his shorts and my other son bites his nails till they nearly bleed. My wife came across this product and website so we ordered. They packed it and shipped it fast like a concerned family member. The item corrected my boys behavior and the bricks are extremely tough and durable. Thank you for making a product with the understanding of the struggle and stress my/all children have to go through. :') I wish this was around when I was a kid." - Andrew P.
---
"I was always an avid chewer, potentially due to an anxiety disorder, or potentially just because of who I am. I'd gnaw and destroy wads of paper and cardboard, plastic bottle caps, lego bricks, wooden toys, small metal objects - I've even damaged pieces of furniture. After constant admonishment, in my teens, I did my best to train myself out of the habit. It only partly worked; I never managed to stop chewing paper like it was bubblegum, and sometimes I'd nip and bite at my own hands out of frustration. It took me until now, at the age of 25, to learn that the need to chew was a part of other people's lives too. I started off with this Super Star pendant, at XT toughness, unsure how substantially it would help me - but it's been a blessing I can hardly put into words. I've been gnawing it near-constantly, and it's been a better stress relief than anything else I've ever known. I've already ordered more, in XXT toughness (as I'm already damaging the XT I have now), and I don't think I've ever been happier with a thereputic tool in my life." - Chiron
---
"My daughter has destroyed hundreds of dollars worth of items with her constant need to chew. Shoes, books, toys, water bottles, charging cords, cell phones, remote controls, her bedroom furniture, you name it s he's ruined it. When we managed to keep her away from anything she might want to chew (which was literally everything!), she just chewed on her hands, hair, and shirt instead. I found your company while I was desperately searching for an answer to help keep her safe and healthy. She absolutely loves her necklace and hasn't chewed a single inappropriate thing in the 3 days she's had it. She carries her "chewy" everywhere with her, and proudly shows it off to everyone she meets. I will be telling every parent I know about how wonderful your products are." - Jean
.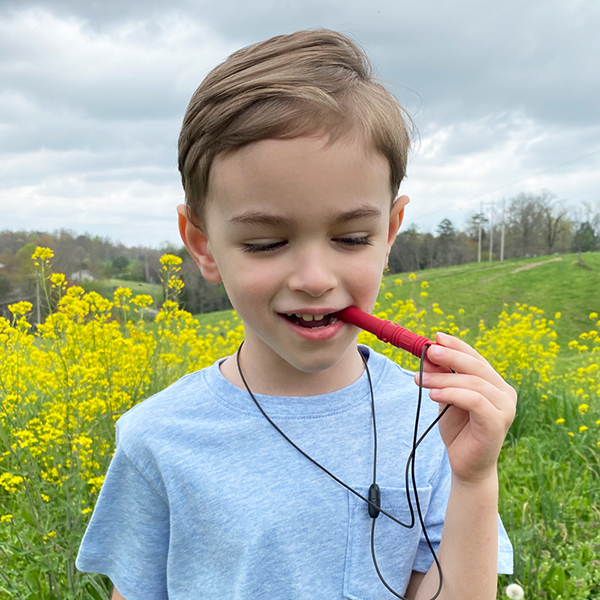 .
Some parents ask us, "But won't giving my child a chew tool encourage them to chew even more?" It will be encouraging them to chew, yes, but in a safe, appropriate way. The need to chew is there, whether or not they have something safe to chew on. Having a chew tool just means that they'll be able chew appropriately and comfortably.
With a chew tool in hand, they can direct all of their nerves, anxiety, stress, sensory overload, etc. into the chew tool instead of suppressing or masking their needs (which can be extremely exhausting). The result is happier, healthier, calmer kids better equipped to take on the world. And an added bonus is saving toys, headphone cords, pencils, etc. from being destroyed!
If you need any help picking out a chew tool, please let us know. We're here for you and we love to help! For further reading on the need to chew, check out these 10 oral sensory tips.
.