Favorite Spoons for Feeding Therapy
Posted by Debra C. Lowsky, MS, CCC-SLP on 22nd Apr 2014
As a feeding therapist, I've seen my fair share of spoons. Below are the ones that I've found most useful over the years. Every spoon below is not only made in the USA, but also designed with specific feeding therapy goals in mind:
.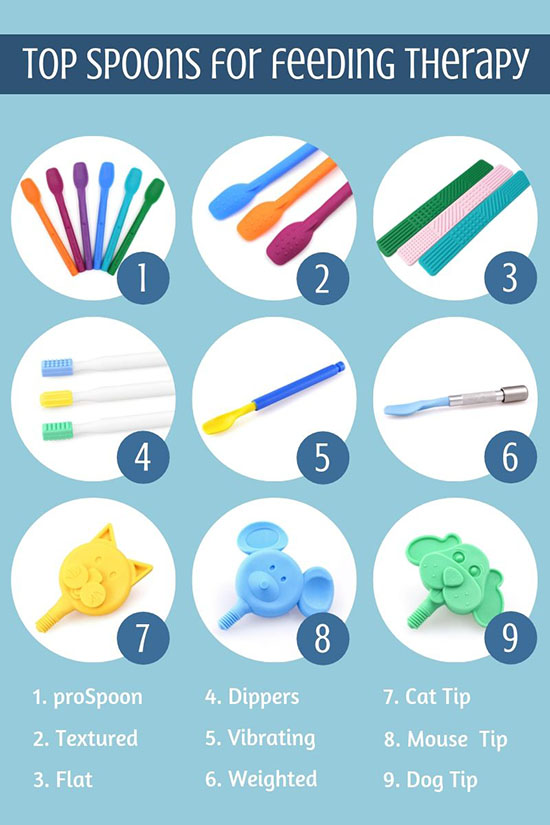 .
1. proSpoons
These are my basic, go-to, everyday spoons. What I love about them is that they are just the right size. Many spoons are either too deep or too wide. This means that the spoon tends to get overloaded with food - way too much to orally manage in one bite. This spoon also has a little bit of flexibility to it so that it's easy on the teeth (in case someone has a bite reflex and bites down hard on the spoon).
.
These are exactly the same shape and size as the proSpoons above, except that the underside of the spoon bowl is textured. The textured bumps help transition children from puréed to textured foods and decrease oral sensitivities.
.
These spoons are very thin - perfect for individuals who have limited lip control, and/or for those who have a hard time removing food from the spoon. The spoons are textured on one side and smooth on the other. Present the spoon textured side facing up to stimulate the upper lip, or textured side down to stimulate the lower lip and tongue. Use the end with lines for mild input, or the end with bumps for more input. Or, start with the lines and eventually progress to the bumps for increasing tactile input. No matter how you use them, they're a great way to introduce texture to puréed foods like yogurt, applesauce, stage 1 baby foods, etc. The thin size also prevents parents/caretakers from putting too much food on the spoon. And they can even be used as tongue depressors!
.
The Probe, proPreefer, and proMini are mainly used to work on oral motor skills. But they can also be used as "dipper spoons" for feeding therapy. The texture and nubs (especially of the Probe and proMini) work well to hold puréed foods like applesauce, yogurt, stage 1 baby foods, etc. Dip them in a child's favorite foods to introduce new textures.
.
5. Z-Spoon
This is the Z-Vibe with a spoon attachment - so it vibrates! I know eating with a vibrating spoon may sound a little "left field" to some people. But vibration can be very effective for those with oral defensiveness and sensory feeding issues. If a child has little to no awareness in the mouth, vibration can help "wake up" the mouth and help them become more aware of both their mouth and the food in it. If a child has too much awareness in the mouth (hypersensitivity), vibration can help decrease this sensitivity and in turn decrease food aversions. The vibration is not bumpy or wobbly - food is not going to shake off the spoon. Rather, it's very smooth and gentle, serving only to provide more tactile input and sensory feedback. The spoon attachments also come in a textured option.
.
6. Weighted Spoon
The Weighted Spoon provides sensory input and awareness to the hand to assist self-feeding. This helps them use their hand more independently. It comes in either a vibratory or non-vibratory version.
.
7/8/9. Animal Tips
The Cat, Mouse, and Dog are tip attachments for the Z-Vibe. When used with the Z-Vibe handle, they have all the same vibration benefits as the Z-Spoon above. But with Animal "spoons" instead of regular ones. Dip them in puréed foods and/or use the ears as spoons. The animals are very kid-friendly, so I use them to create a more relaxed and fun environment for feeding therapy. It's also easier to introduce these through play therapy, as they look more like "pets" than spoons. Have the child give them a kiss, name them, or come up with a story behind them. I dip them in food to promote mouthing, or use the ears as spoons. They have a variety of textures / shapes for the mouth to explore, and so they're also great for working on normalizing oral sensitivities. Oftentimes I start with just playing with the food, and so these fit right in. Kids can become more familiar with both food AND utensils in a non-confrontational, stress-free way through play.
.
Debbie
Debra C. Lowsky, MS, CCC-SLP
.