How Fidgeting Improves Focus and Self-Regulation
Posted by Guest Blogger Katie Zelinski, The Well Balanced OT on 10th Nov 2020
This special guest blog post on fidgeting comes to us from occupational therapist Katie Zelinski.
---
Fidgeting. It's something that we all do without even thinking about it. Let's take a trip down memory lane:
You were in school and had to give a presentation to your class. Even though you knew all the information, you hate public speaking and were feeling nervous and stressed. Did you chew gum? Anxiously twirl your hair? Tap your foot or click your pen?
Or what about that time you were attending a two-day continuing education course and you brought a packet full of nuts, a straw cup water bottle and your current knitting project?
In the Occupational Therapy realm, we'd say that each of those strategies was a tool to maintain an optimal nervous system (which includes arousal and self-regulation) that allows our brains to fully attend, prepare and learn. In the outside world, you might refer to each of those strategies as fidgeting.
.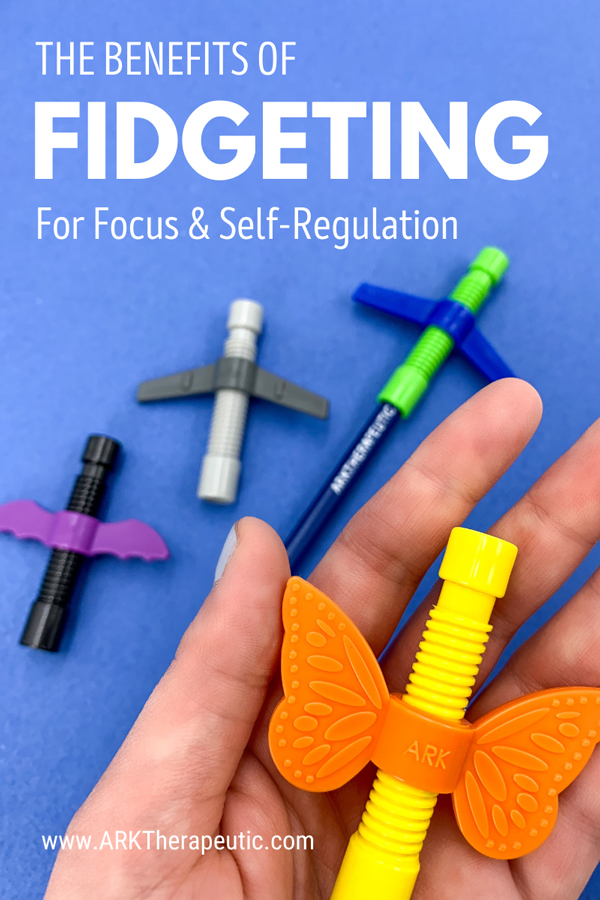 .
We thrive when we are in a just-right state of regulation, but when we are feeling nervous, sad, tired, stressed, or excited, we leave that ideal state. Arousal is related to our level of alertness. A low arousal individual may seem sluggish, tired, and slow to process information. A high arousal individual may energetic, impulsive, nervous or even skittish/avoidant if they are having trouble filtering out environmental stimulation. As our environment changes, we must utilize self-regulation strategies in order to meet the demands of the world around us. Fidgeting helps us maintain a just-right state to meet those demands.
If we think back to sitting in that classroom. We were in a high arousal state and using vestibular input (twirling hair, tapping foot, clicking pen) and proprioceptive input (chewing gum) as a means to regulate our nervous system in preparation for our delivery. During that 2 day course, we knew we would be sitting in one spot for at least 12 hours which usually facilitates a low arousal state. In order to stay awake and focused on the presenter, we brought in a crunchy snack and straw cup (oral proprioceptive input) and something to do with our hands. Each of these strategies allowed us to "fidget" quietly and discreetly.
How can we help kids maintain an optimal arousal level?
We know that fidgeting helps us maintain a just-right state where we can learn, absorb information, and attend to our environment. As adults, we utilize self-regulation tools on a daily basis. But what about kids? We expect them to sit at their desk and listen, without any of the fidgeting tools adults have learned to use. When they wiggle and move around in their chair they are trying to regulate their arousal level, but it may become distracting to their classmates and appear to be a "behavioral" problem to the teacher or parents.
What tools and strategies can we teach our kids to improve self-regulation? Try these three:
.
HAND FIDGETS:
As with any self-regulation tool, it is important that we teach our children when, where and how to use them correctly. While some fidgets are better for classrooms vs. home, others can be acceptable in multiple environments. Specifically, for school or when working in a group, I have three requirements for a fidget: it must be small, silent and doesn't roll away when it drops.
.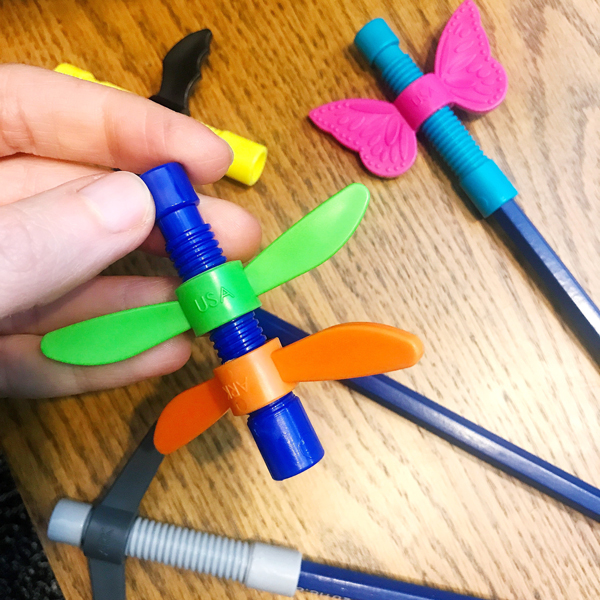 .
Providing a tool that allows us to move only a small portion of our body, like our hands, helps keep the rest of our body still. Even these small movements increase blood flow and free up brain space to attend to their environment or teacher.
I had the privilege of testing out the new Wingamajigs from ARK Therapeutic. These colorful wings are available in your choice of butterfly, dragon, airplane, dragonfly and bat. The butterfly and dragon have a raised texture for those kids who benefit from additional tactile input. For example, those kids that like touching Velcro, sticky things, or bumpy textures.
With one light flick of the finger or a gentle blow, each set of wings spin around a post that can sit on top of an eraser-less pencil or in your hand. Personally, I enjoy pushing the wings to the end point, releasing, then pushing back to the end point. The repetitive nature is calming, but it also provides some resistive proprioceptive input.
.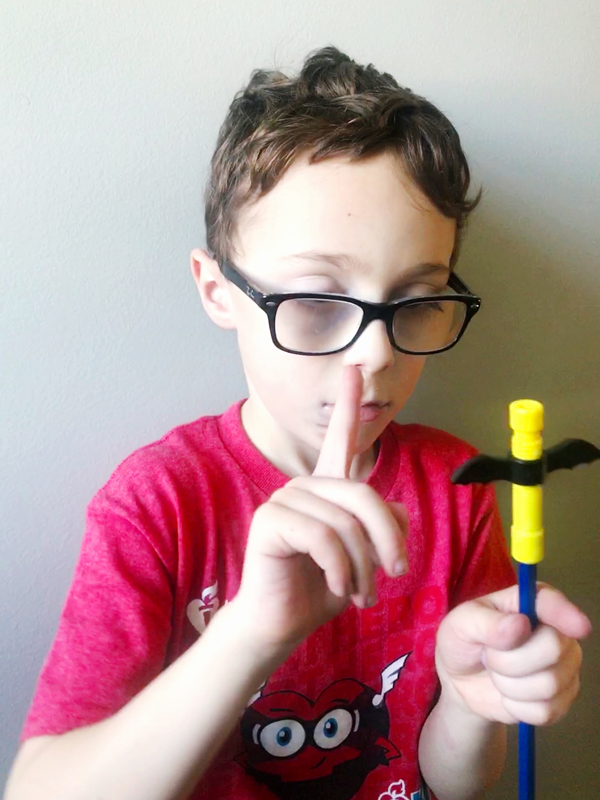 .
But let's see if it fit my requirements:
Size: Alone, these are 2.5" in height. Easy to put in your pocket, hold under your desk, or throw into a pencil case when needed. They come with an eraser-less pencil, which they fit snuggly on top of. If your child uses a golf pencil to help improve their grasp pattern, these Wingamajigs will also be compatible.
Silent: From finger flick (with the pad of your finger) to spin, the sound is almost inaudible and cannot be heard over another voice talking.
Doesn't roll away: One of my biggest pet peeves with fidgets is that they are often a round ball that can fit in a child's hand. Well, what happens if that ball falls? As it rolls away, the frustrated fidgeter moves around the room to find it while every other student giggles as they watch. With the Wingamajig, each wing is secured to its post with a removable screw-off top (so that you can mix and match color/wing options if you desire). As they fly around their post, no one will have to worry about them actually flying into the air or rolling across the floor.
You might have caught that I mentioned you could use your breath to make these wings spin. If you've read any of my previous blog posts, you'll remember that breathwork is another great way to improve regulation and attention.
.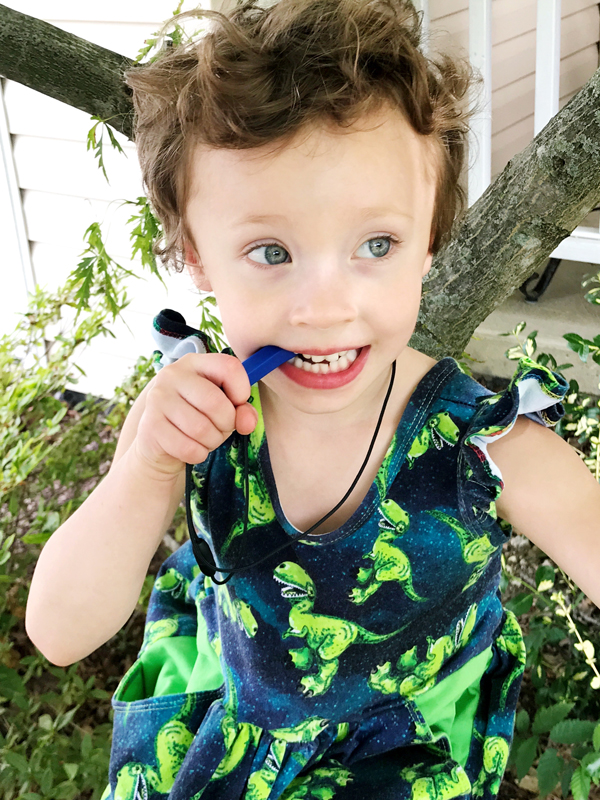 .
CHEWING (ORAL FIDGETS):
Studies have found that chewing increases blood flow and oxygen to the brain, which then helps us focus and retain information at a higher rate. In addition, proprioceptive receptors live in our jaw and each and every time we bite down, we are sending little messages to our nervous system to help calm it. Chewing gum isn't always safe for our little ones and isn't always clean for the underside of your tables or your rug. Instead use chewelry, a chewable pendant on a breakaway cord that hangs around your child's neck to use whenever they need a little input. Using this system maintains cleanliness, keeps the children from sharing with friends, and helps it not get lost. A chewable pencil topper is also a great solution. It's basically a fidget for the mouth.
(Please note: the Wingamajigs are not chewable, but you can find all chew tool options here.)
.
BUILD HEAVY WORK INTO THEIR SCHEDULE:
Resistive/ Heavy work provides input to our body that sends a calming signal to our brain and prepares us to focus and attend. If at school, try to include resistive activities into transitions. Use a weighted item that the child must bring with them to their next stop, push a large crate of lunch bags or library books to its location, or have them hold open doors for the class. Once at home, encourage active time outside prior to sitting down to complete homework.
Fidgeting is a helpful strategy for adults and kids to use when trying to maintain regulation and a just right state for learning and attending. Teaching our children what type of activities help their bodies feel the best may take some time, but will empower them as they age and can better self-advocate for their own needs.
.
Katie Zelinski
Katie Zelinski graduated from New York University with a Masters in Occupational Therapy. She currently lives in Cleveland, Ohio. She has additional training in Ayres Sensory Integration, S.O.S., feeding, reflex integration, and iLs programs.
Follow Katie on Instagram @the.well.balanced.OT or visit her website at www.TheWellBalancedOT.com.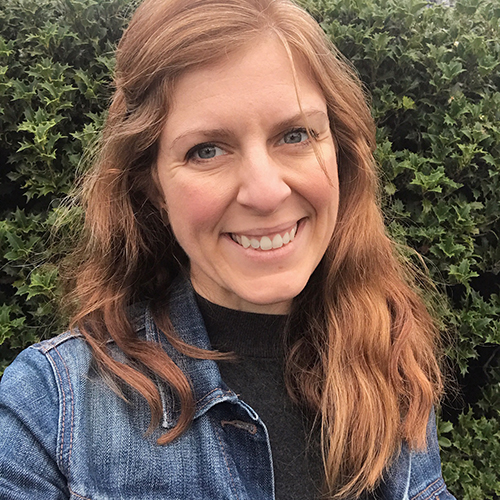 .