Food Aversions & Spoon Feeding Issues
Posted by Debra C. Lowsky, MS, CCC-SLP on 4th Jan 2017
Question: Hi, I have a toddler who is almost 2 years old, have sensory processing disorder. He also has feeding aversion. and super sensitive to texture & taste. Some goals I am looking to achieve: desensitize the oral aversion, teaching him to eat different textures, making spoon-feeding fun (he is now fighting spoon-feed) and teaching him to drink from a straw cup. Which items you recommend for me? Thanks!!!!!
---
.
Hello! It sounds like our Z-Vibe with the animal attachments would be a great idea. They're animal faces, so it might infuse some fun there and make him more interested in trying new foods. You can dip the ears and/or any other parts of their faces into food. The mouse and dog in particular have ears that make good spoons. The Z-Vibe + Animal Tips are sold together here or in a kit with 3 animals here.
Out of the animal tips, if I had to recommend just one, I'd go with the Mouse Tip. It's usually the most popular with kids and the ears are the easiest to use as spoons.
.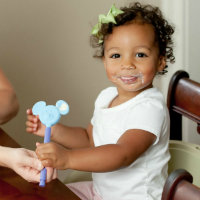 .
.
As for other tip attachments, if budget allows, I'd also recommend:
• Soft Brush Tip can be used for gentle gum massage which can help desensitize
• Mini Tip
.
For straw drinking, the Bear Bottle Kit (I'd recommend the ultra version) can help beginners and/or those with a weak suck learn to drink from a straw.
I would also say for now, don't worry about whether or not he's using a traditional spoon. If he's using his hands, or dipping a chew tool into the foods, or anything else - that's great! The goal for now is to get him comfortable with more foods and desensitize - using a traditional utensil can come later. I've even used a twizzler as a spoon before.
Allowing him to mouth/chew on chew tools, especially textured ones, can also be helpful for desensitizing / encouraging acceptance of new textures. The Y-Chew has a mild texture that's good to start with. Then when he progresses / will allow it, the Textured Grabber has more raised texture for more input. Dipping any of these tips / chew tools in his current preferred foods can help encourage acceptance.
You can get all of the above products separately. Or, you can get most of them in the Starter Kit (and bundled that way would be a savings). The Starter Kit comes with default selections, but you'll just change those to choose Y-Chew and Textured Grabber instead, plus the 4 bullet-pointed Z-Vibe tips noted above. Then you'd just get the Mouse Tip and Bear Bottle separately.
.
On a related note, below are some blog posts of ours that I think you may find helpful:
Food Refusal - is it oral motor or sensory related?
Oral Defensiveness and Food Aversions
The Right and Wrong Way to Spoon Feed
.
Ideally it would also be best to have him see a feeding therapist. Feeding therapy can be very complex, so they'd be able to evaluate his needs in person, best recommend what would be relevant/helpful for him, and help guide you both through this. The above are only best guesses without being able to see him in person, but I hope some of this helps :)
.
Happy New Year!
Debbie
Debra C. Lowsky, MS, CCC-SLP
.