Chew Tools for Adults - Coping with Stress, Anxiety, and More
2nd May 2022
Does any of this sound familiar: biting nails when anxious, teeth clenching, fidgeting during meetings, chewing on pen caps at work, or even biting the insides of your cheek?
If so - you've come to the right place! ARK makes chewable sensory solutions for anyone who needs to chew.
Many people use sensory chews to help with anxiety, stress, concentration, and all sorts of situations. Although we make chew tools for all ages, below you'll find testimonials specifically from our adult customers to help all the other adults out there who might be searching for a safe, durable, and discreet chew tool to use.
If you need any help picking out a chew tool, please let us know. We're here for you and we love to help!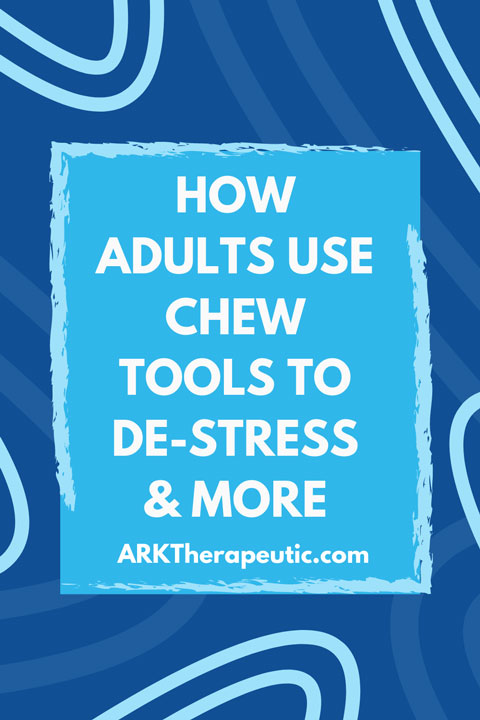 ---
"I'm an OT and also a chronic shirt chewer. I have been since I was small. These are FANTASTIC and I've recommended the Krypto-Bite necklace to several clients and use it myself when I find the desire to chew shirts. I love that there are so many colors in different strengths so you aren't limited to just one in Medium for example. Great product." - Kaitlin
---
"My husband is an Alzheimer's patient. He has developed a chewing habit that has him chewing on the collar of his shirts. I found some articles on the internet that suggested finding a chewing device to satisfy this need similar to those that are given to autistic children. This large grabber has done it. He calls it his "chew toy" and asks for it if he misplaces it. The amount of chewing on clothing has diminished significantly. Thank you for developing this product." - Mary Ann
---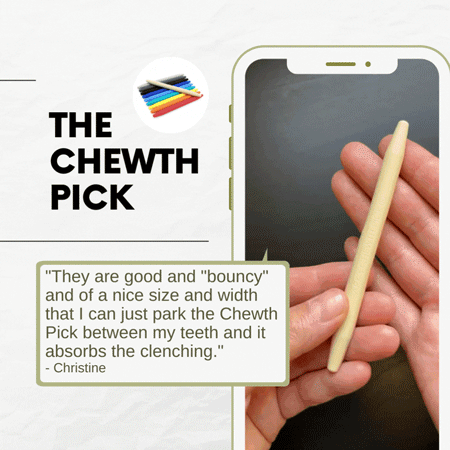 .
"I bought the blue set and a Krypto Bite necklace as my first order from ARK because I clench my teeth while working from home. I have severe TMJ disorder on the right side. They are good and "bouncy" and of a nice size and width that I can just park the Chewth Pick between my teeth and it absorbs the clenching. The diameter of the Krypto Bite gem is larger and doesn't work as well for my situation." - Christine
---
"I am a medical student with OCD and this chew necklace is currently helping me through upper division university classes. It is the perfect thickness for me and stops me from thoughtlessly tearing up the insides of my cheeks while I work on things. A notable observation is that it is quite tough despite its thinness! I always order the toughest option for all chews (XXT), as my teeth are quite sharp and strong, but I was surprised by just how solid these are. It only took about half an hour of vigorous use to reach optimal chewability, though, so no points off!" - Vi
---
"The Snowflake from ARK has become my favorite chew. It is thin enough that it doesn't stress my TMJ issues. I can position my lower teeth right through the center of the snowflake design and my upper teeth right between the rows of print on the back to keep good alignment while biting, chewing, or running my tongue over the multi-layered intricate design. I really wish I'd had such a tool to divert back when I was 5 and my mother suggested that thumb-sucking could ruin my bite. It would have saved my teeth decades of wear, kept my hair out of my mouth in middle school, and spared countless writing implements over the years." - Marie
---
"This chewable gem was perfect for me! I often chew on my fingers or shirt collar when anxious, and this chewie has been a perfect substitute. I bought the "ghost" color and put it on a chain, and nobody even notices that it's not a real crystal." - Livi
---
"I got the Jewel Power Chew Pack because I wanted to sample several different shapes to see which one would be best for me. I have excessive teeth grinding as a side effect from medication and needed something to chew on to help protect my teeth and jaw. These are extremely helpful and convenient and I can keep one at home, one in the car and one at work. I will definitely be ordering more." - Laura
---
"I'm 63 and have been a nail biter and finger chewer for decades; unsuccessfully trying to stop. The Arrowhead Chew necklace has helped me a lot. When I catch myself raising my hand to my mouth I chew the necklace instead. I have had painful fingertips due to the nail biting and bleeding due to chewing the skin around the fingernails. This has improved immensely since I started using the necklace. I will be getting a more narrow chew shape on my next order now that I've figured out my chewing "style". Great product that is helping me quite a bit!" - Leslie
---
"I've been a nail biter since high school, and have been looking for something that will save my fingers. The Saber Tooth Chewelry is the perfect substitute. While I still catch myself nibbling on my nails, this chewelry has dramatically reduced it. In black or grey, the fang can blend with most outfits without it looking dorky. There have been times I thought I would bite right through the thing, but the shape remains intact. A great accessory for scary movies or exams!" -Kathryn
---
"I used to have a huge issue with nail biting, not so much biting them off, but like I felt the need to be biting on something. I bought the Baseball Bat chew in the firmest type, and it's amazing. I know I have a place where I can redirect that need to bite. I would absolutely recommend these chews for anyone with a similar issue." - Jade
---
"I bought these for my Mom who has a habit of chewing on her pens and breaking her teeth. She LOVES the chewable pen topper! Now, when she unconsciously sticks her pen in her mouth, she doesn't have to worry that she's going to need to make a trip to the dentist. You've solved a source of major grief for my Mom. Thank you, Ark!" - Thomas
---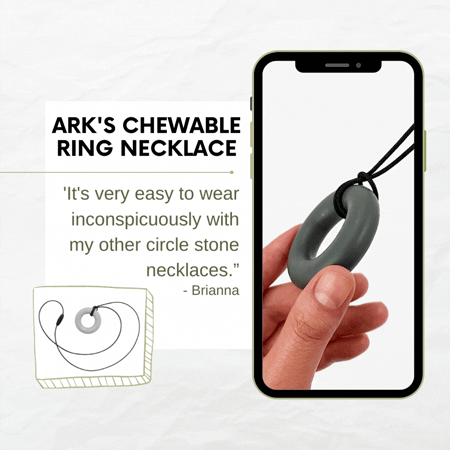 .
"Got the Chewable Ring necklace my own use as I have autism and anxiety through the roof. Works wonders to keep me from eating my pen caps and nails (I still bite some nails off but that's not the product's fault, it's mine for not always having it around my neck)...
Enjoy the product, and it's very easy to wear inconspicuously with my other circle stone necklaces." - Brianna
---
"I get very anxious when I drive and my normal fidgets/stims are things like tapping my face or wiggling my fingers. Chewing on this chewy necklace lets me calm down without taking my hands off the wheel." - Anon
---
"This really helps me when I'm at work because I work with my hands and need something to fidget with. Before I got this sensory chew necklace I was chewing on my lips and inner cheeks, but with this it gives me something safe to chew on." - Hope
---
"I ordered this Grabber for an adult with limited mobility who was chewing on wash towels for anxiety. This is working so well that I ordered a second one for him. He also likes being able to squeeze the handle. I ordered the blue one which is the toughest one." - Nancy
---
"I am a stress chewer, and was really bad on my pens and pencils growing up. But it took me a long time to realize this. So, these chewable toothpicks are really nice. I can fiddle with them in my hands like a pen/pencil, but the chew isn't going to make the pen explode in my mouth. So, it hits that need really well to keep me less stressed and safer from chewing on plastic, wood and ink. I very much recommend it. I got the toughest chew and am doing well for now. I do abuse them though, but it's nice since it comes in a pack of three." - Anonymous
---
"A friend recommended an oral stim toy to help with smoking cravings, and I have a neuro disorder anyway so I figured it was time to try one out. I love it! Very helpful for long, silent/solo activities such as walking dogs, doing chores, or driving." - Kait
---
"I am a young person with severe autism! I chew and have chewed on everything since I came home when I was 8 from Russia. I have always had my XXT Grabber and Guitar but wanted to try the Bite Saber necklace. I love it! It's small but long enough to reach my molars… it's also transparent so I can stim with the lights through it! Thanks ARK for making such great CHEWIES!!!" - Keez
---
"Thanks to my ADHD, I've been chewing up the inside of my mouth like crazy for years. I've been so self conscious of the calluses and shedding skin on the inside of my lips and cheeks, but there was no way for me to stop. After switching to ARK's chewelry, my mouth is finally healing and I'm so happy. I've also been able to use it to even my bite that's been affected by TMJ since I was a teenager- I'm starting to have even muscle strength on both sides of my jaw!!
This gem shaped necklace is so satisfying to chew and it's long enough to chew on my back molars. I got both the standard and the next level up in hardness. I was worried that as an adult chewer, I'd need the stronger one, but the standard is strong enough! And it's also much more satisfyingly chewy for me. I'll definitely be buying more from ARK in the future!!!" - Marie
---
"This gem chew pendant is super inconspicuous so I can sneak it out in public without stares. Also it reaches for those nice back teeth chomps. 10/10 I love it so much. It's like chewing a soft pencil." - Percy
---
"I've got really bad anxiety, and PTSD. I chew through shirts, my lip, arm, and often whatever is in front of me (I bit my friend's headrest in his car. His used car. That he's never cleaned in the eight years he's owned it. /Twice/.) It's so good to finally have an outlet." - Lan Quinn
---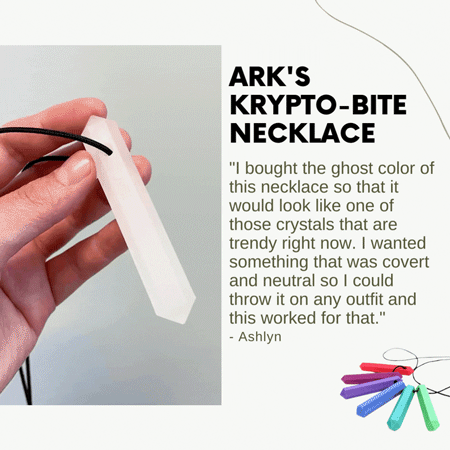 .
"I wanted to give a perspective from an adult user. I bought the ghost color of this crystal chew necklace so that it would look like one of those crystals that are trendy right now. I wanted something that was covert and neutral so I could throw it on any outfit and this worked for that. I use one to help with jaw clenching from stress, particularly at work. It helped reduce my jaw pain and helped me recognize when I was clenching. I got an extra and let my husband try one because he constantly chews on straws when he's sedentary. He loves using it because it holds up and lets him occupy his desire to chew without hurting his teeth or destroying his chewy." - Ashlyn
---
"This is definitely my favorite chew tool for my student. I am a special education teacher for young adults. With my student who is getting older and bigger, some of the chews are too small for him and don't have enough surface area for him to chew on. Additionally, this extra firm chew lasts the longest of any chews he has used. Overall, this serves as the best chew possible for my older student and I absolutely love it!" - Anonymous
---
"These chewies are just what I was looking for! My wisdom teeth were flaring up and these were very cathartic. I could put them in the freezer before chewing and they provided soothing relief." - Carl