The Difference between the Bear Bottle, Cip-Kup, and Sip-Tip
15th Oct 2019
Question: Can you tell me what the difference is between your three cup sets - the Bear Bottle, Cip-Kup, and Sip-Tip?
---
Great question. The Bear Bottle, Cip-Kup™, and Sip-Tip® are very similar. They all make drinking easier for beginners and/or individuals with oral motor difficulties or a weak suck.
Each cup set comes with a special valve that controls the flow of liquid. Once liquid is at the top of the straw - it stays there and doesn't flow back down into the cup. This means you don't have to draw liquid up the full length of the straw each time. With liquid already at the top of the straw, only a little effort is required to take a sip.
Each cup set also comes with a yellow Lip Blok that you can use if needed. A Lip Blok is essentially a mouth guard that you press into the top of the straw. You don't have to use a Lip Blok, but it does have a lot of benefits. For example, it prevents individuals from putting the straw too far back in the mouth.
.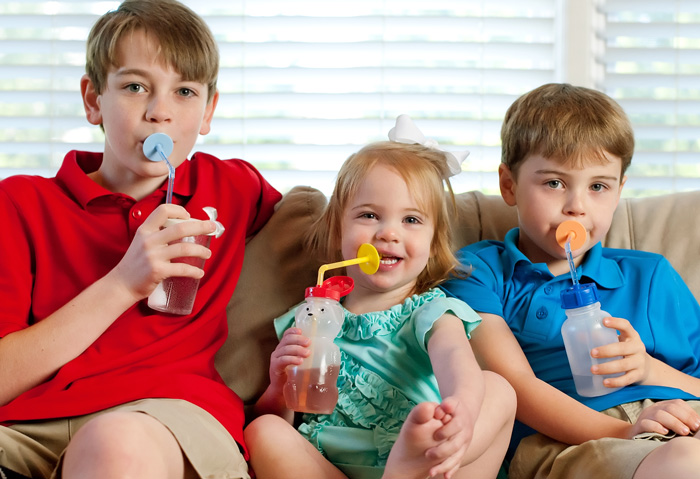 .
The differences:
The Bear Bottle is a flexible bottle with a twist-on cap. You can squeeze the bear's belly to "help" liquid up the straw for the first sip, and/or to squeeze liquid directly into the mouth (no suction required in this case). Because of the fun/friendly design, the Bear is usually used with toddlers and young children. You can usually start teaching straw drinking at about 8-10 months of age.
The Cip-Kup functions exactly the same way as the Bear Bottle. It just has a more neutral/discreet design usually preferred by older children through adults. The lid twists on and you squeeze the flexible bottle to "help" liquid up the straw, if needed.
The Sip-Tip is a rigid cup with a flexible lid that snaps on. Since the cup is rigid, you press the flexible lid to "help" liquid up the straw, if needed (instead of squeezing the bottle like you do with the Bear or Cip-Kup). Cover the vent hole in the lid with your finger and press down a few times to pump liquid up the straw and/or into the mouth. As an added bonus: the Sip-Tip has graduated marks on the side so you can measure liquid intake.
So it's mainly preference between which one you choose. The Bear Bottle and Cip-Kup are nice because an individual can use it one-handed (holding and squeezing with the same hand).
Whereas the Sip-Tip is more of a discreet option since it looks more like a regular lidded cup. The Sip-Tip also has more color options for the lid.
.