Feeding Therapy Advice for Happy Eating
12th Jan 2022
We asked several feeding therapists: If there was one piece of advice that you'd like to share with families who are in feeding therapy, what would it be? Below are their thoughtful answers. We hope you find these helpful, motivating, and insightful as you go through your feeding journey!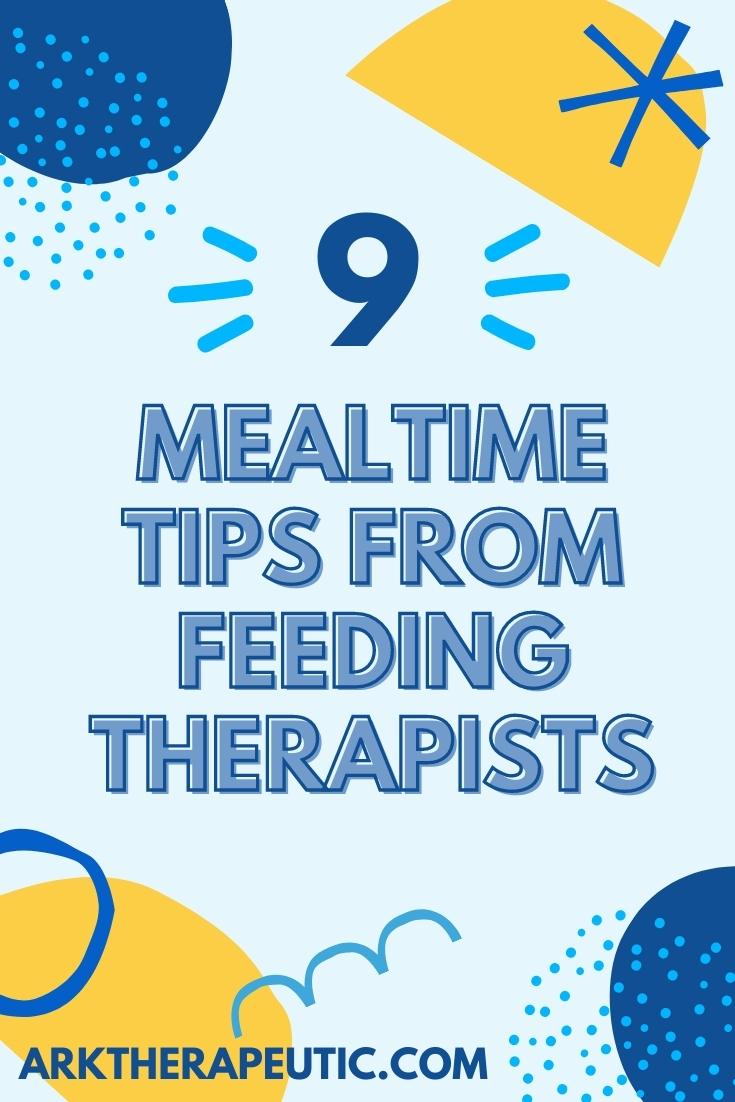 ---
Remember that It's Not Your Fault
"I think one of the biggest factors that play into progress is the level of stress felt by both the caregiver and child. You would think that it was simple - just play with the child and be happy. It's easier said than done.
Many families come in with so much distress thinking that they have failed their child. Every parent or caregiver just wants to see their child thrive, and eating is directly connected to surviving. You can imagine how hard it must be.
This pressure then in turn is felt by the child, and the entire mealtime becomes a frustrating battle that neither supports learning or participation. The pressure is then felt in every interaction by everyone at the table.

So families, I want you to know: It's not your fault. You can let go of that guilt and blame. You are a great parent. You are a great caregiver. You will get through this. Your child will get through this. You're doing all you can. You found a good therapist and this journey will be a good one for both you and your little kiddo."
- Jasmine Ou, MA, OTR/L
---
Give Yourself & Your Child Grace
"One piece of advice that I like to share with parents in regard to feeding therapy is to give yourself and your child grace.
These new colors, textures, tastes, smells, experiences are all happening at the same time for our tiny humans, and they might experience an overload of emotions associated with it. These emotions can range from excitement to anger, fear to curiosity and disgust to affection and back again.
As we move forward in our feeding journey and experience all of these emotions, it's important to remember that feeding, although a necessity, can also be fun.
As far as giving yourself grace as a parent, it is important to remember that you are doing the best you can for your child. You are working alongside them to achieve their goals. Don't become discouraged if things don't happen based on the timeline in your head. Every child is different! Keep pushing forward! Us SLPs believe in you!"
- Biancha Diaz, MS, CCC-SLP
---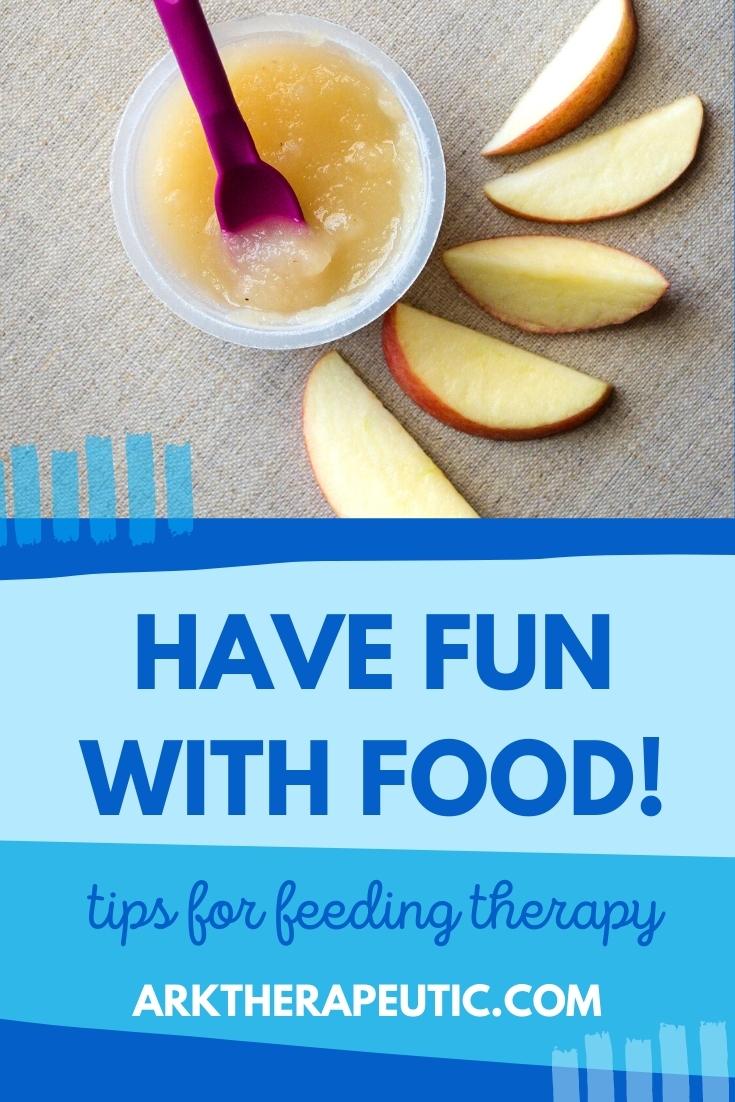 .
Have Fun with Food
"If you have a picky eater or child in feeding therapy, my number one tip is to have fun with your food. A child must be able to touch the food with their hands before they are ready to place it in their mouth. We want to show them how to be food explorers!
Grab some random tools (knife, toothpick, fork, juicer, garlic press, scissors, magnifying glass, ARK's Buddy Bite, cookie cutters…) and put together a kit that can help your child engage with food in a fun way. They can smash a grape in the garlic press, make shapes in a slice of cheese, or use the Buddy Bite (as tongs) to pick up "carrot coins".
This can be fun for the whole family and will be even more motivating when the child sees other family members playing along.
Feel free to taste the food you are interacting with, but never force the child to do so! Pressure-free and fun food exposures will lead to more opportunities for positive food interactions and self-initiated tastings."
- Katie Zelinski, MS, OTR/L
Related reading: Why Playing with Food Can Lead to Trying New Foods
---
Encourage Mouthing & Oral Exploration
"If there was one piece of advice I could offer to all families I work with, it would be to work on mouthing and teaching baby to chew & gnaw as soon as they start mouthing objects.
ARK makes so many awesome tools for mouthing, helping introduce babies to new textures and oral play experiences.
Offering a variety of teethers and opportunities for baby to mouth objects helps the child to navigate and explore new textures & objects in their mouth, making them confident and open to exploring new textures and objects when starting solids.
Offering stick shaped objects helps baby work on chewing and tracking objects with tongue. They also help with pushing baby's gag back so baby is ready to start exploring solid food."
- McKenzie Hoffman, MA, CCC-SLP
Related reading: Why Do Babies Put Everything in their Mouths?
---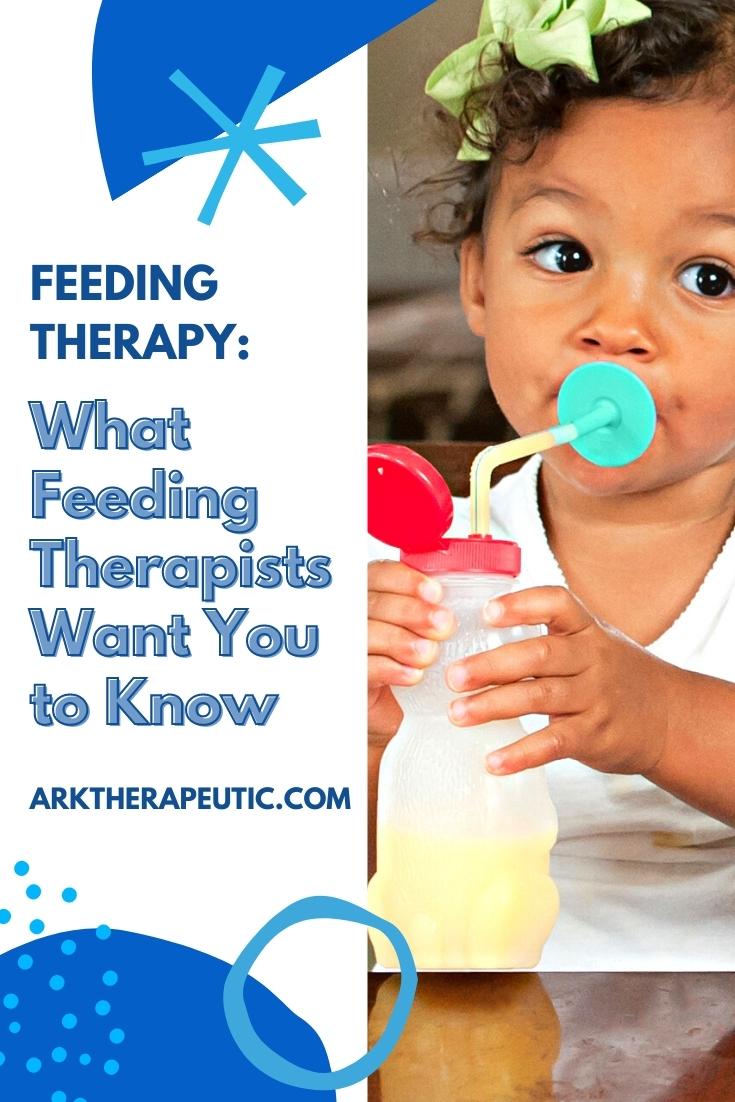 .
Transition from Bottles to Sippy Cups Straws
"I have worked with children over the last few years who experience difficulty transitioning from a bottle to a sippy cup, to the great frustration (and expense) of caregivers.
What I once thought to be a sensory challenge has actually transformed in my clinical mind into a challenge of oral strength and coordination in many cases. I have learned that many children do not have the oral skills necessary to suck from a sippy cup, and that can be mistaken for aversion, disinterest, stubbornness, etc.
The honey bear straw trainer is currently my favorite tool, and I have experienced incredible success with my patients and their caregivers through utilizing this simple tool over the past few months.
To present cool and refreshing apple juice to a little one who has not experienced liquids other than milk, and to see the smile and pleasure accompanying that experience is priceless to me as an SLP and feeding therapist. And then, to see the ease of burden carried by the caregiver is another incredible win that we share. Moments like those are the reasons I love what I do!"
- Melinda Vazquez, MS, CCC-SLP
Related reading: How to Teach Straw Drinking and The Benefits of Straw Drinking
---
Learn/Talk about Food & Prepare It Together
In order to successfully make choices about food and fully understand what you're eating, it's important to know where your food comes from, and how it's put together - to get to know the origins of the different ingredients, before they're made into a finished meal.
"Some strategies that can be used:
Show the food in its original state, before it's been cooked or prepared. If it's a fruit or vegetable for example – look at the food together before it's been peeled or cut up. Let the child touch it, smell it, bite it, investigate the taste, and name/describe it.
Then, in front of the child, the fruits and vegetables can be cut, peeled, and prepared. Show the child, step by step, how to prepare that food. Describe in words what you are doing.
Finally, present two foods on a plate and let the child choose what they would like to eat. The color of the plate must always contrast with the food: use a white plate to place two foods with strong colors and different from each other, or a dark plate for light-colored foods (banana, potato, pear, cheese, etc.)."
- Maura Virginia Hermitte, SLP, TND
---
Trust Your Instincts
"The popular phrase, "feeding before (age) 1 is just for fun!" although catchy, can be misleading. While it may be true in terms of nutritional needs that before 1 year of age, most babies are getting most nutrients from breastmilk and/or formula, it is crucial that we also acknowledge feeding development in baby's first year and all the learning that occurs when your baby is being exposed to solid foods and water; learning about textures, flavors, hand-eye coordination, pincer grasp, learning how to bite, chew, and swallow these new textures, as well as learning straw and cup drinking, among other things.
Feeding is a wild and exciting sensory experience with so much to offer. Participating in and enjoying mealtime with family and loved ones is something that many families across different cultures find to be an important value as their little one begins to join in with mealtimes and/or cooking practices!
There are so many ways to approach feeding/mealtimes and your baby; be sure to take the time and explore what might be the best approach for you and your family. There's lots of methods and research out there, so be sure to make an informed decision that feels right for you.
I like my mealtimes for my kids to have the "three R's" as I call them: Respectful, Relaxed, and Realistic. Happy eating!"
- Maura Castellanos, MA, CCC-SLP
---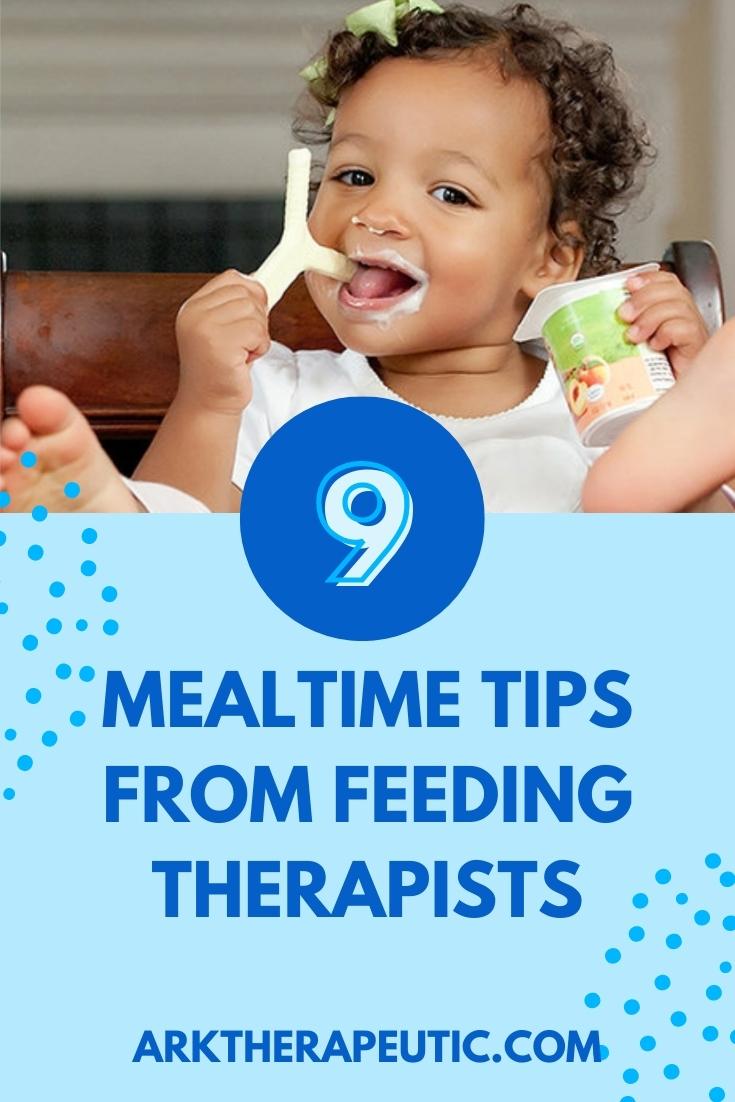 .
Follow through with Home Practice
Practicing therapy techniques at home in between feeding sessions is so important! You may see your feeding therapist only a certain number of times per week or month. Whereas at home, there are 3 meals throughout the day where you can practice feeding techniques to see results faster.
"Here are 5 steps to facilitate feeding at home:
Get an ARK Grabber [or Y-Chew - pictured above] and ask the child to use it on their own, or with the help of a parent.
Use the Z-Vibe with a Probe Tip to stimulate the gums, lips, cheeks, and tongue.
Use a spoon that is not too deep or big - like the proSpoon.
Play with the food: smell it, touch it, lick it.
Always give the child the reassurance that they can try the food and immediately spit it out if they want to. This is very important!!!"
- Angeliki Xygka, MSc SLP
---
Go Slowly
"Feeding is a very stressful activity for most of the parents with who I work. They face so many challenges every day that when the therapist is recommending or suggesting tips for parents, those suggestions have to be clear, and based on not only feeding. Here are some of my first tips that I would suggest to parents:
First, try to stay as calm as possible. Enjoy every meal, and enjoy spending that time with your child. Remember - if it is a challenge for you to work on feeding, imagine how it is for your child!
Do not start with all the textures at the same time, go step by step with easy food.
If the struggle is in chewing, don't jump into crunchy food straight away - work with chewy tools first and then introduce food slowly.
If your child has panic or fear around food, start with sensory play first using therapy putty or kinetic sand. Then progress to food play using tomato sauce for example. Simply play, building contact and comfort between the child and food."
- Lisa Shchyhel, OT, Med Autism
---
We hope you found this information helpful! For more feeding therapy advice, check out 75+ Tips & Strategies for Feeding Therapy.
.