Halloween Activity for Fine Motor & Language Play
16th Oct 2014
We drew up some "spooktacular" free printables for you all. Introducing: Frankenstein ("Frankie") and his Bride. Each character is available in both blank and colored in, all of which can be downloaded here. Read below for ideas on how to use them for Halloween-themed learning activities: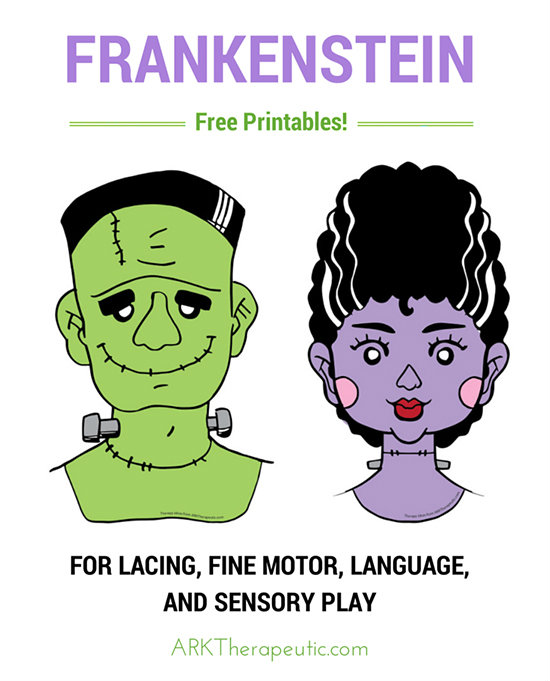 .
To encourage speech and language:
Print off the blank characters and have the child color them in. Let them use their imagination, or throw in one or two step prompts to practice following directions ("color his hair first and then his nose")
Put the two characters next to each other and work on pronouns (his versus hers), body parts, etc.
Put a blank piece of paper underneath the heads and prompt the child to finish drawing the rest of their bodies (this is called visual closure).
Give them names and come up with a story behind them.
Talk about what's silly (their hair, coloring, bolts, etc.).
Make them into masks (cut out the faces, punch holes in the ears, and tie a string from ear to ear).
.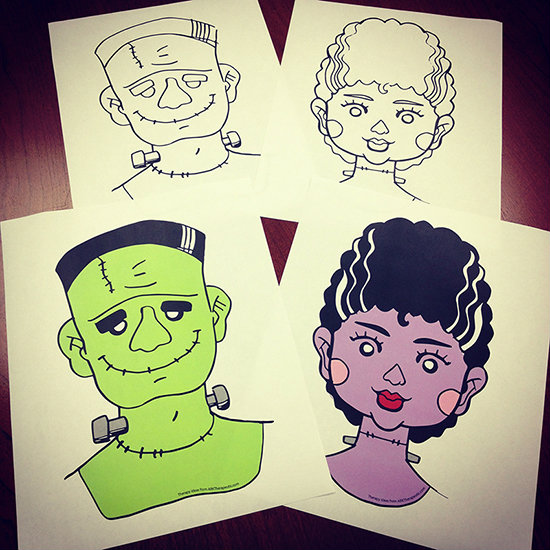 .
For fine motor fun:
Use Mr. & Mrs. Frankenstein for a lacing activity. Laminate them, punch holes around the edges of the paper, and then have the child lace through the holes with a shoelace. Lacing is also an excellent bilateral coordination activity.
Use wikki stix to outline their eyebrows, the stripes in their hair, lips, blush, etc.
.
For sensory play:
Let the child fill in the faces with various textured objects/items: shells, beads, small crumpled up bits of paper, cotton balls, etc.
Use them as a template for food play to help kids with food aversions become more comfortable with different textures. Put cheerios in their hair. Cheese doodles for the bolts. Veggie sticks for Frankie's smile. Give Mrs. Frankenstein fruit loops or licorice hair or coconut flakes hair.
.
Have fun and Happy Halloween!
.