10 Fine Motor Exercises with Putty & Play Dough
27th Jul 2015
Putty, play dough, and other hand manipulatives are classic occupational therapy tools for fine motor work and sensory play. Not only are they fun, but they can also be used to work on a whole host of developmental skills, such as hand strength, finger isolation and dexterity, bilateral coordination, imaginative play, and much more. Here are some of our favorite play-dough games/exercises/tricks.
.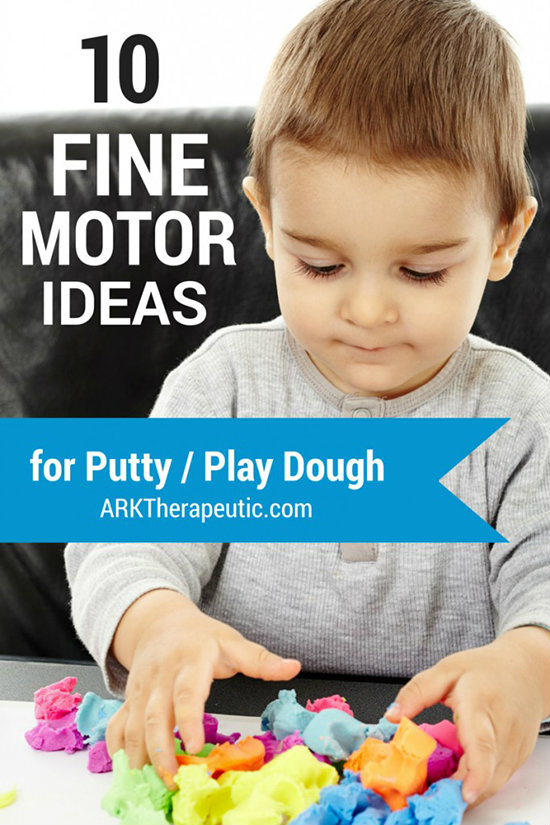 .
1. Hide objects in the putty and have kids go for a "treasure hunt" with their fingers. This is a motivating way to give the fingers a fine motor workout without the kids even realizing it. Bonus: if you hide beads in the putty, you can have kids thread them onto a string afterwards as a secondary activity to work some bilateral coordination practice in.
2. Roll the dough/putty into a snake and/or ball. It seems like a simple activity, but the child will have to grade his/her hands to use the appropriate pressure - enough pressure to create a snake for instance, but not too much so that the snake gets too skinny and breaks.
3. Make shapes out of the dough/putty and have the child imitate the shapes you create. Make the sun, a cat's face, a fish, waves, and so forth. This is a great way to practice turn-taking skills as well as hand-eye coordination.
4. Texturize it - add rice, sand, or tiny beads to the putty / play dough. This is a commitment as you may not be able to (or want to) pick all of it out later, but the added texture will give it a bumpy feel for more of a sensory experience. You can also do this with just a portion of the putty and store it in a separate container. That way you'll have both smooth and textured options at your disposal. Just don't do beans - the skin will peel off...not fun! Particularly for children with oral sensitivities, sensory tactile activities like this can help because of the hand/mouth connection.
5. "Bake" with it: knead it into bread and then form a few loaves. Or, roll it out with a rolling pin and then cut out cookies. If you don't have cookie cutters handy, just use an upside-down cup.
.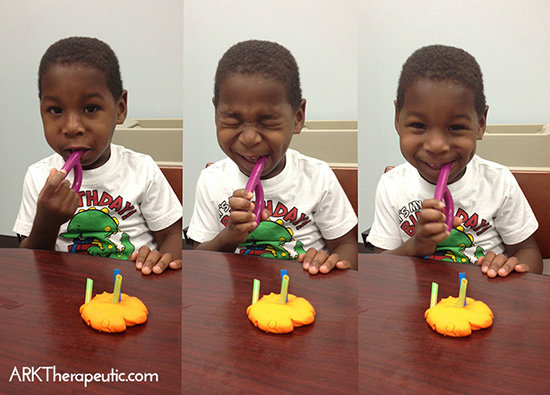 .
6. Throw a birthday party: Have the child cut a straw into small pieces and also form a rounded "cake" shape out of the putty/dough. Then have them put the straw "birthday candles" on the cake. For more details/options on this activity, click here.
7. Form the putty/dough into a log and use a pair of scissors to cut chunks off. This activity works on cutting skills as well as bilateral coordination (the child will have to use both hands simultaneously - stabilizing the dough in one hand and working the scissors with the other).
8. Cut the putty/dough into pieces with a child-safe knife. To make the activity more difficult, the child can practice using a fork to stabilize the putty while he/she cuts it to work on practical feeding/eating and utensil skills.
9. With older kids, form the putty/dough into letters and shapes. Or have them spell out their name, pet's name, favorite color, etc.
10. Flatten the putty out on the table and then have the child pull it down with their fingers (imagine the motion of scratching nails on a chalkboard, but on a flat surface). To work on finger isolation or individual finger strength, have the child do this with just one finger. This is really good for testing where the child's strengths/weaknesses are and where improvement may be necessary. Pinching is also a good motion. This activity works best with putty (or stickier types of dough).
.
Throughout these activities, it may also help to have a chewie nearby for oral sensory input as needed. In the picture above for instance, this little guy is a ball of energy, and so taking chew breaks helps him calm, focus, and come back to center (similar to how some people chew on pen / pencils as they work).
.
Have fun!
.