Food Pocketing in the Lips, Cheeks, and/or Gums
Posted by Debra C. Lowsky, MS, CCC-SLP on 27th Mar 2016
Question: My four year old daughter pockets food in her lower gums. Foods like pizza, chicken, egg whites, etc. (that do not melt like crackers or cookies). She will simply let it stay in her gum pockets until she looks like a chipmunk and eventually we will have to remove it with our fingers. She is not able to automatically understand the natural process of not allowing the food simply stay in her gum pockets. How can we help her get the natural biting and chewing action which will prevent her from pocketing food in her gums? We have a Grabber already and have her practice chewing on both the left and right sides.
.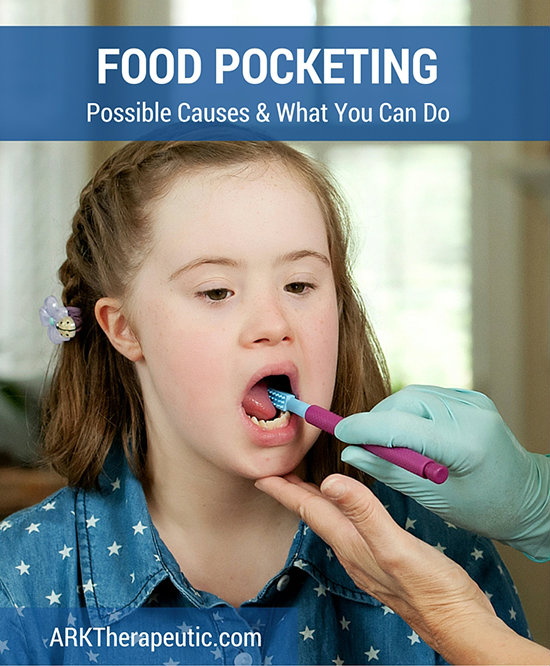 .
Great question. There may be a few different reasons involved and a few different strategies to try:
.
Practice lingual sweeps:
This is the concept of moving your tongue in between the gums and the lips to retrieve food in a sweeping motion. Model doing it yourself, with exaggerated movement. You can also use a mirror for visual feedback so she can see herself. You can make this a game, placing a piece of food there and have her try to get it. Use food that's cold so she can better feel it. Then have her "chase" the food with her tongue.
.
Help her understand why this is important:
To help her understand the concept, you can "play act" with a doll and put a little bit of food in its mouth. Then say "Oh no! She didn't swallow all of her food! Some is stuck. We need to get that out so she doesn't choke on it." This might sound extreme, but choking is extreme. Have her do a sweep with her finger to help get the food out of the doll's mouth. If her sensory / oral motor skills are not where they need to be yet, she can do a lingual sweep with her finger until she develops the skills to do it with her tongue.
.
She may have low oral awareness:
To elaborate on that last point, it's possible she doesn't feel the food in her mouth, which could explain why she doesn't remove it (because she doesn't know it's there). To help "wake up" the mouth, gum massage (especially on the lower gums) could be helpful. . If it is low oral awareness, a Z-Vibe may help, too. For more information on the Z-Vibe and increasing oral awareness in general, click here.
.
And/or she may need to develop her oral motor skills:
There may also be an oral motor component. First of all, doing a lingual sweep and removing food from the mouth requires tongue lateralization, coordination, and control. There are a few ways you can "test" for tongue lateralization. To learn more, click here. . And maybe she's pocketing food because she can't adequately chew it. You're on the right track with having her practice chewing on both sides. For more tips on encouraging a mature chewing pattern, click here. You may also find some parts of this post on food refusal helpful.
.
Last but not least, I'd highly recommend finding a feeding therapist to help guide you through this. The above are only my best guesses without seeing her in person. Be sure to follow through at home with the therapist's advice, as I know you will. You have good instincts!
.
All my best,
Debbie
Debra C. Lowsky, MS, CCC-SLP
.