Bite Reflex While Toothbrushing
Posted by Debra C. Lowsky, MS, CCC-SLP on 23rd Mar 2018
Question: My 12 year old son has severe Tourette syndrome, and sensory issues. Recently, he's developed a "biting" tic. He bites down HARD on anything he puts in his mouth. Brushing his teeth has become impossible. He bites down so hard on the toothbrush, I'm afraid he will break a tooth! Plus it's incredibly painful. Do you make a "biteable" toothbrush by any chance?
---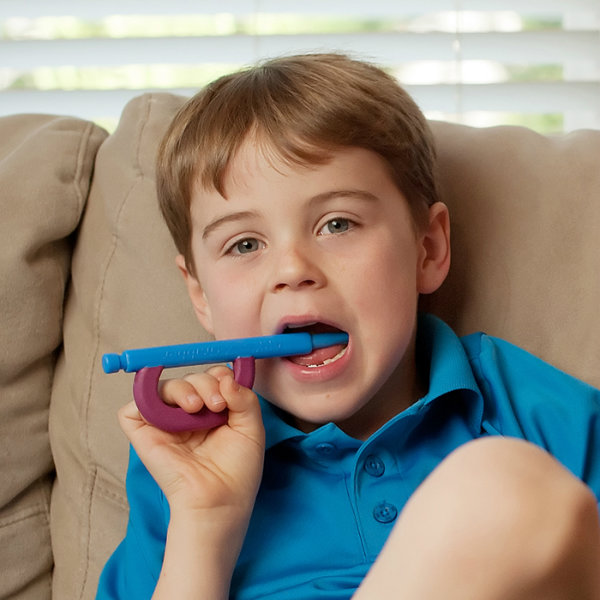 .
Thank you for reaching out! The closest thing we have is the Z-Brush.
It's a vibrating sensory toothbrush that comes with two brush attachment options. The blue one is softer (for gum massage). The yellow one is firmer (for toothbrushing). Neither are 100% rigid - they both have some flexibility to them.
So those attachments would definitely be gentler to bite on than a regular toothbrush. But, there are two things about it that make it not a perfect fit for what you're looking for:
1. When brushing the back molars, it's possible the handle might go into the mouth some (like in the picture above), and the blue handle of the Z-Brush is rigid just like a regular toothbrush.
2. These tip attachments are more like sensory "training wheel" brushes so to speak - for de-sensitizing the mouth. We recommend eventually transitioning to traditional toothbrushes once the mouth is desensitized.
As an alternative though, it may help to let him bite down on a chew tool, and while he is biting down, brush his teeth with a toothbrush. That might help stabilize his jaw while the toothbrush is in his mouth.
Specifically, I'd recommend either the Grabber or Y-Chew. They both have an easy to hold "handle," plus a long extension for reaching the back molars. With the Y-Chew, he can also bite on the handle instead (as pictured below), as that's a little thicker than the other extensions and will keep the jaw open a little wider.
.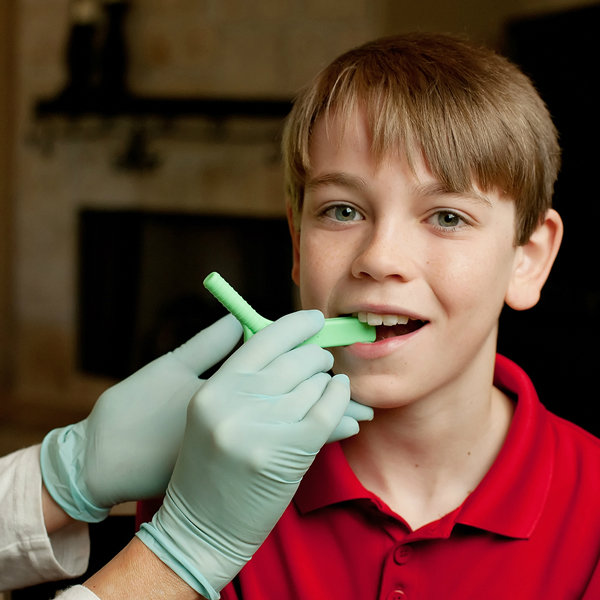 .
Both the Grabber and Y-Chew come in 3 color-coded toughness levels. For using them this particular way, I'd recommend the toughest XXT level. It's the most resistive level so it will hold his jaw open the best (the softer levels are chewier and squish and "sink in" more when you bite on them). XXT is the toughest level, but it still has chewiness to it and will be a lot gentler to bite on than a rigid toothbrush.
I hope this "trick" helps and makes toothbrushing a better experience for him!
Debbie
Debra C. Lowsky, MS, CCC-SLP
.