Practicing a Rhythmic Chewing Pattern
Posted by Debra C. Lowsky, MS, CCC-SLP on 11th May 2015
Rhythmic chewing is one component of a mature chewing pattern. There's a tempo to the way we chew - it's not sporadic; we don't chew fast then slow then fast again. We chew to a silent yet steady beat in order to properly break down food.
.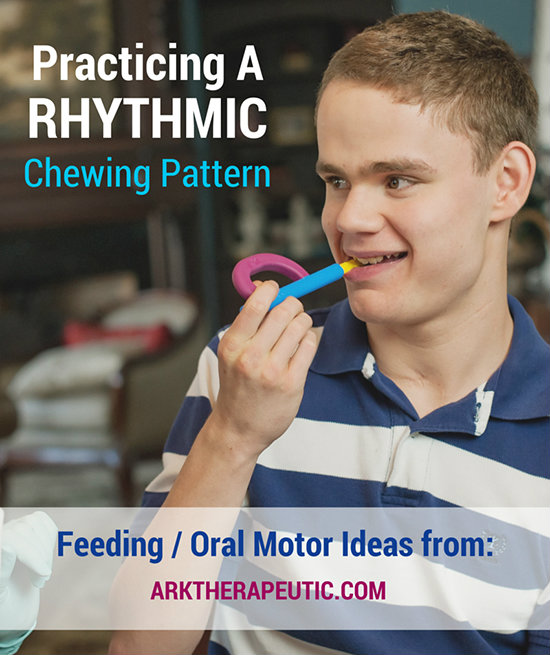 .
In the video below, however, this young man has a very sporadic chewing pattern. In fact, he'll often try to skip chewing altogether and "wiggle" food toward the back of his tongue where it will then trigger a swallow. This is of course a choking hazard, so we're working on establishing a rhythmic chewing pattern so that he will consistently and adequately chew the food before attempting to swallow it.
.
.
You may notice that before I do the exercises, I tell the young man what I'm about to do, "I'm going to put this in between your teeth and I want you to chew on it. I'm going to count up to 10." And so forth. By explaining the exercise beforehand, he knows what's going to happen and what's expected of him. This leads to better results as well as less anxiety if the individual is hesitant/unsure. It's particularly important to do this when the individual doesn't know you very well yet.
.
1. Place the loop of the Z-Grabber (or Grabber) in between the front teeth and have the individual chew 10 times. Provide support/guide the jaw with your opposite hand if necessary for stability.
2. Give him a chance to swallow. Then place the yellow Textured Bite-n-Chew Tip XL (or the extension of the Grabber) in between the molars on the right side. Count to 10 chews.
3. Repeat on the left side.
4. Then repeat the whole set again: 10 chews on the loop at midline, 10 chews on the extension on the right side, 10 chews on the extension on the left side. Then a final 10 more chews on the loop again.
.
So we're practicing chewing on both sides of the mouth, as well as in the center of the mouth for symmetry. If the chewing speeds up or slows down in pace, tap out a rhythm with your hand or try chewing to the beat of music. Tapping out the rhythm can be very helpful in the meantime before that silent beat becomes second-nature.
This exercise also helps strengthen and stabilize the jaw if you find it sliding to the right or left during speech (which can make certain speech sounds / phonemes sound "slushy" or unclear).
As an alternative, you could also do this activity with the Z-Vibe: for step 1 you would place a Bite-n-Chew Tip laterally in front of the mouth instead. Or if using a Y-Chew instead of the Grabber, you would similarly place one of the extensions laterally in front of the mouth for step 1.
.
Debbie
Debra C. Lowsky, MS, CCC-SLP
.