Over a Billion Z-Vibe Kit Combinations
Posted by Debra C. Lowsky, MS, CCC-SLP on 25th Apr 2018
Did you know you can custom build over a BILLION different Z-Vibe Kit combinations on our website? If you need help narrowing things down though, just let us know and we'd be happy to help :)
.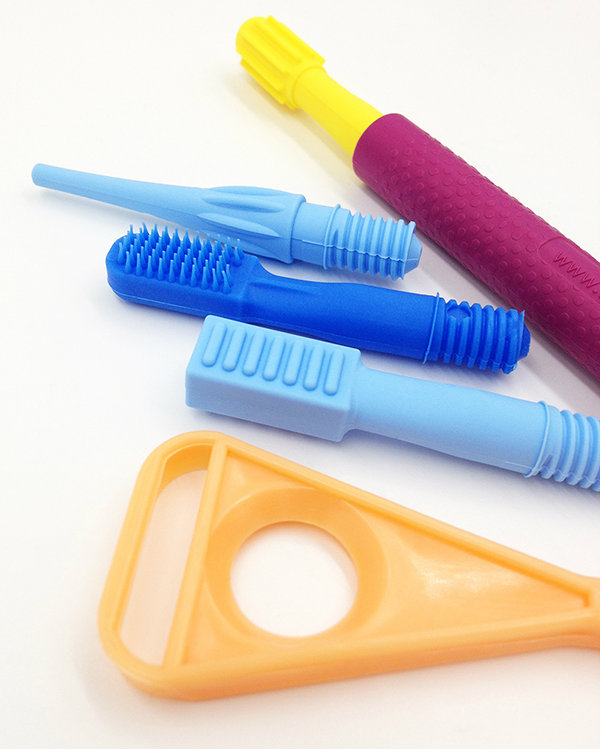 .
Pictured from top to bottom:
PREEFER TIP - This is one of my favorite tip attachments (named after one of my best speech friends from college). The rounded shape is perfect for rolling it along the lips, across the tongue, inside the cheeks/lips, etc.
FINE TIP - This tip narrows down to a thin point, so it's a useful tool for providing targeted touches.
SOFT BRUSH TIP - This is a great attachment to have for working on oral defensiveness. The bristles are very soft and pliable for gum massage and desensitizing.
PROBE TIP - The classic Probe Tip, very versatile. The lined side (pictured) provides mild input. The bumpy side (not pictured - it's touching the table in the picture) provides more input. For individuals who are very orally sensitive, you can start by providing input with the smooth edges of the tip instead, which provide the least input.
TONGUE TIP - This tip can be helpful for establishing the concept of tongue lateralization and/or elevation. Hold the tip vertically just in front of the individual's mouth and ask them to put the tip of their tongue inside the tip. Then guide the tongue from side to side or up and down.
.