Babies Biting on Straws
Posted by Debra C. Lowsky, MS, CCC-SLP on 17th Sep 2016
Question: Hello! I have a 19-month old son that is currently doing occupational therapy through our state's early childhood intervention program. We have been trying to teach him how to drink out of a straw, but to no avail. I have tried steps 1-4 on your How to Teach Straw Drinking article with the ARK Bear Bottle, (ultra), but we get stuck on him biting the straw, which makes it hard for him to drink out of the straw and then he gets frustrated and refuses to try again. In theory the Lip Blok looked like it would be the perfect solution since it's basically a "hard straw" and won't let him collapse the straw, but he gets very upset that he can't bite it and then he refuses to keep going. I don't know if I am doing this right. What can I do to help me teach him that he is supposed to suck out of a straw? Am I doing this properly? Thank you!
.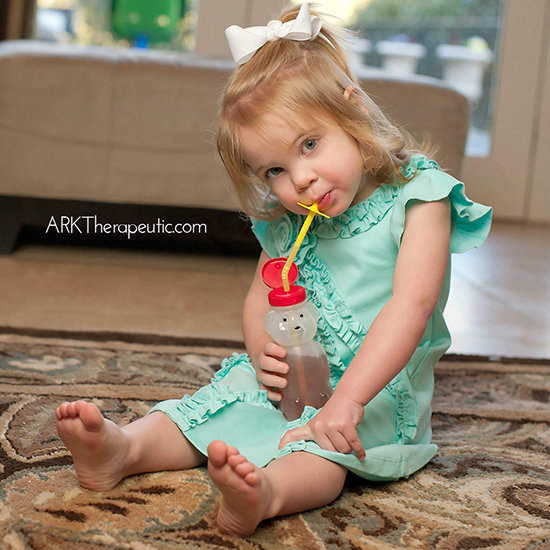 .
You're not doing anything wrong, don't worry! It's common for some kids to bite on straws. It's logical after all - usually when we put things into our mouths it's food meant to be bitten and chewed. Sometimes you have to teach kids that straws (and/or spoons for that matter) are not for biting. Or sometimes biting is a reflex, or sometimes it's related to teething, or they may bite on the straw for stability if they don't have good trunk control yet, etc.
If it's related to teething, giving him something to mouth/chew on throughout the day may help, like a Baby Grabber.
You can also have him bite on the Baby Grabber about 5 times. Then put the straw on his lips and say 'no bite.' Then give him the Grabber again. Make it a game and tap out the chews to a beat, and then say "ok let's use the straw now and practice no biting!"
If he's up to eating a cracker, he can take a bite bite bite, chew chew chew, and then can take a sip. So he's getting the biting in through a cracker instead.
If that doesn't work and he just really likes chewing on straws, you can have a special straw that he is allowed to chew on - just that straw. I would caution though that straws can develop sharp edges when you chew on them (they split apart), so a tubing straw may be better for him.
So essentially, don't avoid the biting, work with it. He may also just might need time to adjust to straw drinking.
And of course, consult with your OT and possibly his dentist and pediatrician. The above are only best guesses without seeing him in person.
.
I hope this helps, and good luck!
Debbie
Debra C. Lowsky, MS, CCC-SLP
.