Assisting Lip Closure
Posted by Debra C. Lowsky, MS, CCC-SLP on 22nd Jul 2015
Just like its namesake, lip closure (also known as lip seal) is the ability to close one's lips. It's important for several different speech/feeding/oral motor skills:
.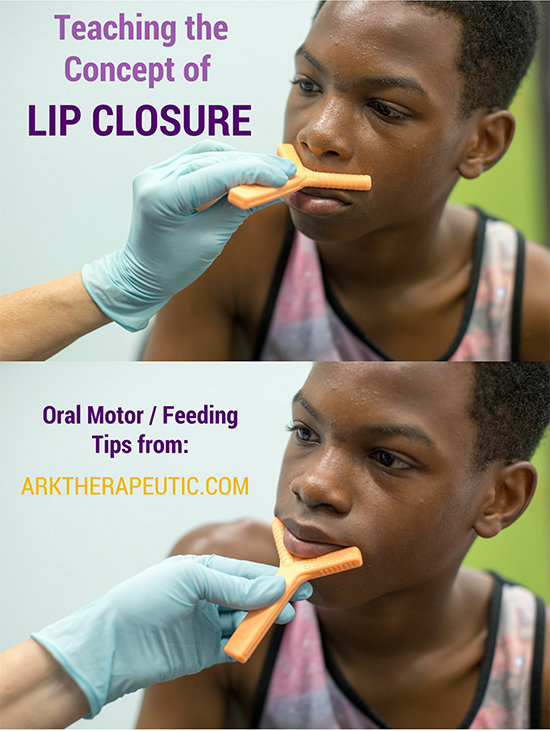 .
• Being able to close one's lips around a straw, spoon, a piece of food, etc.
• Being able to pronounce the speech sounds /p/, /b/, and /m/
• Being able to chew food with one's lips closed so that food stays inside the mouth (and also for good table manners - I'm not concerned with table manners in feeding therapy, just getting the child to eat well, but post-therapy it could be a goal for the parents)
• To prevent drooling (poor lip closure can be one reason why some children drool)
• Correct oral resting posture - lips are closed when our mouth is at rest (when we're not eating, drinking, or speaking)
.
So, how do we work on improving and facilitating lip closure? There are several different ways (I'll link out to more at the bottom of this post). Specifically here I'm going to show you a simple trick on how to use the Y-Chew to assist lip closure:
.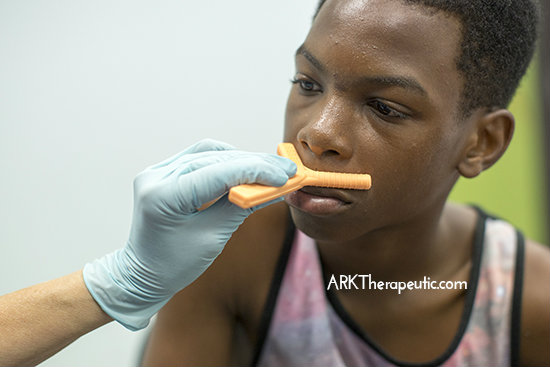 .
1. To assist upper lip closure, place the upper portion of the Y-Chew just above the upper lip. Then gently press downward, stretching the upper lip to meet the lower lip (as pictured above).
.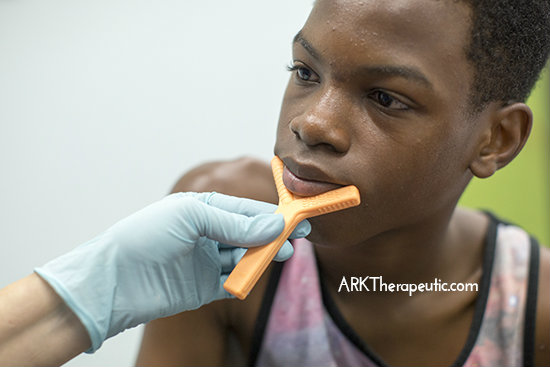 .
2. To facilitate lower lip closure, place the upper portion of the Y-Chew just below the bottom lip. Then gently press upward, stretching the lower lip to meet the upper lip (as pictured above).
.
The video below also demonstrates this exercise. Provide support to the chin with your opposite hand if necessary.
.
.
This oral motor exercise is particularly helpful when you need to establish the concept of lip closure, as it helps the individual physically feel what it's like for the lips to close. I like to use the Y-Chew for this because the upper V section of it provides input/guidance to the full width of the lips. Sometimes that tactile feedback is all it takes for the concept to "click" with the individual.
.
For more oral motor lip exercises, check out these edible oral motor activities, these fun oral motor ideas, and/or these Z-Vibe exercises. Lip Bloks are also an effective yet very simple way to naturally encourage lip closure. For more exercises you can do with the Y-Chew, click here and here.
.
I hope you find this helpful!
Debbie
Debra C. Lowsky, MS, CCC-SLP
.