Speech Therapy with Bandaids
Posted by Debra C. Lowsky, MS, CCC-SLP on 4th Feb 2014
One day I happened to have a Band-Aid in my pocket, so I decided to put it on one of my classic bean bag toys. This added a whole new dimension to the toy. Children immediately related to "Mr. Turtle and his boo-boo." Some of them said, "Awww!" Some gave him a kiss or held and rocked him. From here, the opportunities for speech and language seemed endless. As some examples, we worked on:
.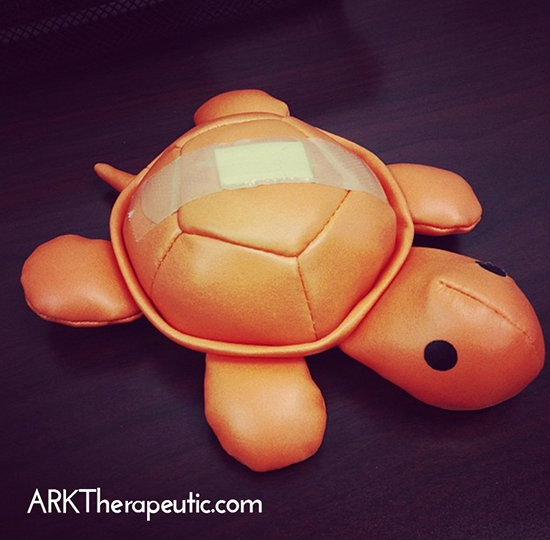 .
Story Telling
What was Mr. Turtle doing when he got hurt? Where was he going? What happened? Who helped him? What did that person do to help? Let's wash the boo boo. Then go to the doctor. And act out the story.
.
Pragmatic Skills & Asking Questions
Where does it hurt? Is he going to be okay? Should we take him to the doctor? Does he need a new bandaid? Let's pick him up, hug him, say hi to him. How does he feel?
.
Counting
How many bandaids do you need? We talked about the concept of one.
.
Following Directions
Put the bandaid on the turtle's head, back, etc. Put it on your knee, my knee, etc. (also a way to teach pronouns and body parts).
.
Phonology
We fed the turtle CV (consonant-vowel) combinations like pie, tea, and pea. We changed the Band-Aid for VC (vowel-consonant) combinations like on, off, and ouch.
.
Band-Aids are now a staple in my bag of speech tricks — especially ones with fun colors and patterns. They're quick, easy, and a great way to inspire speech through play. This goes to show that you can really turn anything into an opportunity for language development!
.
Debbie
Debra C. Lowsky, MS, CCC-SLP
.