Introducing Oral Motor Tools
Posted by Debra C. Lowsky, MS, CCC-SLP on 7th May 2018
Question: I have some of your products (Z-Vibe, Baby Grabber, Baby Guitar, Bear cup) but my son seems to be having a hard time accepting them. He's just now finally accepting the bear here and there, but he doesn't really want to have anything to do with the chew tools or Z-Vibe. I've read in some of your literature that dipping them in sticky foods can help increase acceptance, and I was told that sometimes it can take several introductions before kids will accept the tools. I'm wondering if you had any other ideas on how to better incorporate these tools into everyday life. He will be 2 in June and is seeing an SLP for oral motor and low tone skills.
---
Great question! Dipping oral motor tools in sticky foods (applesauce, peanut butter, nutella, marshmallow fluff, yogurt, etc., allergies permitting of course) is the first thing I would try.
Also, dipping them in not just sticky foods but his * favorite* foods might help. If he absolutely loves cool whip for example, dip them in cool whip especially. That makes the tools even more attractive.
PLAY will probably be key here. Try stacking the tools and see how tall of a "tower" you can build. Use the Grabber as "glasses" and look through them. Hang a Grabber from his ear or your ear. Be silly.
.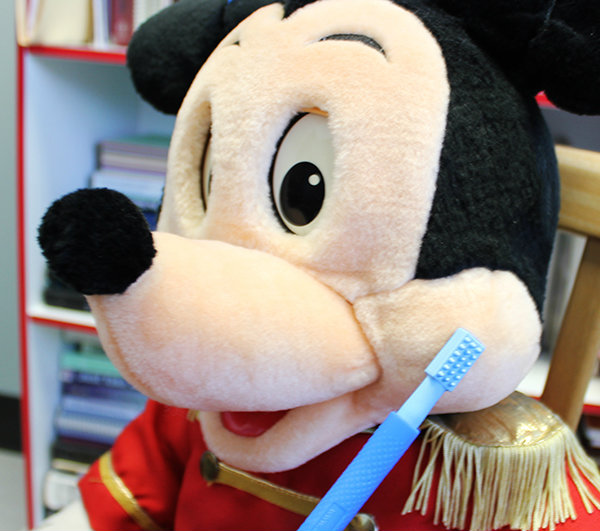 .
Demonstrate using the products on his favorite stuffed animal or toy so he can start to get an idea of what's expected. You can also demonstrate on yourself or a sibling.
Or, it may help to have a sibling actually help and be involved - sometimes little people respond better to other little people that are closer in age/size (and kids often look up to their siblings).
Strum a "song" on the Baby Guitar while music is playing.
Ask him to name the Bear, which may make it even friendlier ("Mr. Bear," or "Bo the Bear").
For the Z-Vibe - vibration can be very alerting, so I always recommend introducing this without vibration first.
Make the products available to him. During mealtimes, have a Grabber on the table or his high chair. During playtime, have it next to his toys. (Under supervision, especially if this is with the Z-Vibe since the Z-Vibe has small parts). No pressure for him to use it - he doesn't have to. Just its presence may help him get more used to / comfortable with it later on. Or he may just pick it up and start exploring it.
Just lots of play. And he's 2 so it may take some time. 2-year-olds often go through a "No no no!" phase where they say no to everything so just keep trying and hang in there, you're on the right track. The SLP you're seeing may also have some suggestions.
I hope you find this useful!
Debbie
Debra C. Lowsky, MS, CCC-SLP
.